Join Love Binti on our Women Empowerment Trip
2022-02-07 00:00:00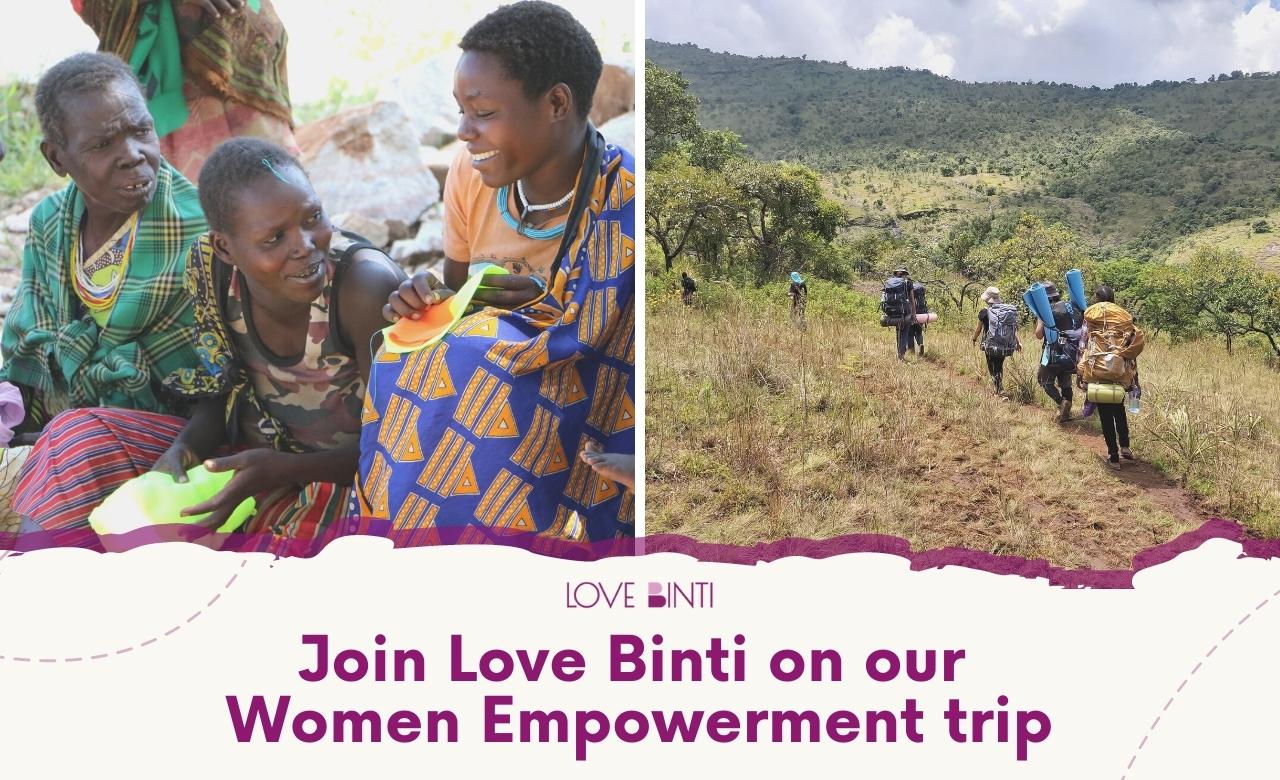 Join Love Binti on our
Women Empowerment Trip
Spend 1 week with the NGO and see
how we work on the ground in Uganda.
Trip Description

Our one-week Karamoja Trip will take you deep into Uganda to the villages where we - Love Binti, run our projects. In Mukono, not far away from Uganda's bustling capital Kampala, you will visit our main campus, where we do school construction, WASH projects and agricultural projects.

We will then head towards Karamoja, the most isolated northeastern region of Uganda. Karamoja is one of the least developed regions, but also one of the most misunderstood.
We will visit some of our project sites near Moroto, and you would have a chance to take part in our Women Empowerment Project, our pad sewing workshops.

Lastly, we will head to Kidepo National Park for a fun safari. Kidepo is one of the most untouched national parks in Africa and boasts an astounding landscape and an amazing collection of wildlife. You will have a chance to see lions, buffalos, hippos, and many others.
Through the journey our team members will show you around and introduce you to Ugandan culture and present our projects to you. You will have a chance to interact with the local community, and see with your own eyes what rural life in Uganda is like.

People are friendly and humble, and we hope you will fall in love with them like we did!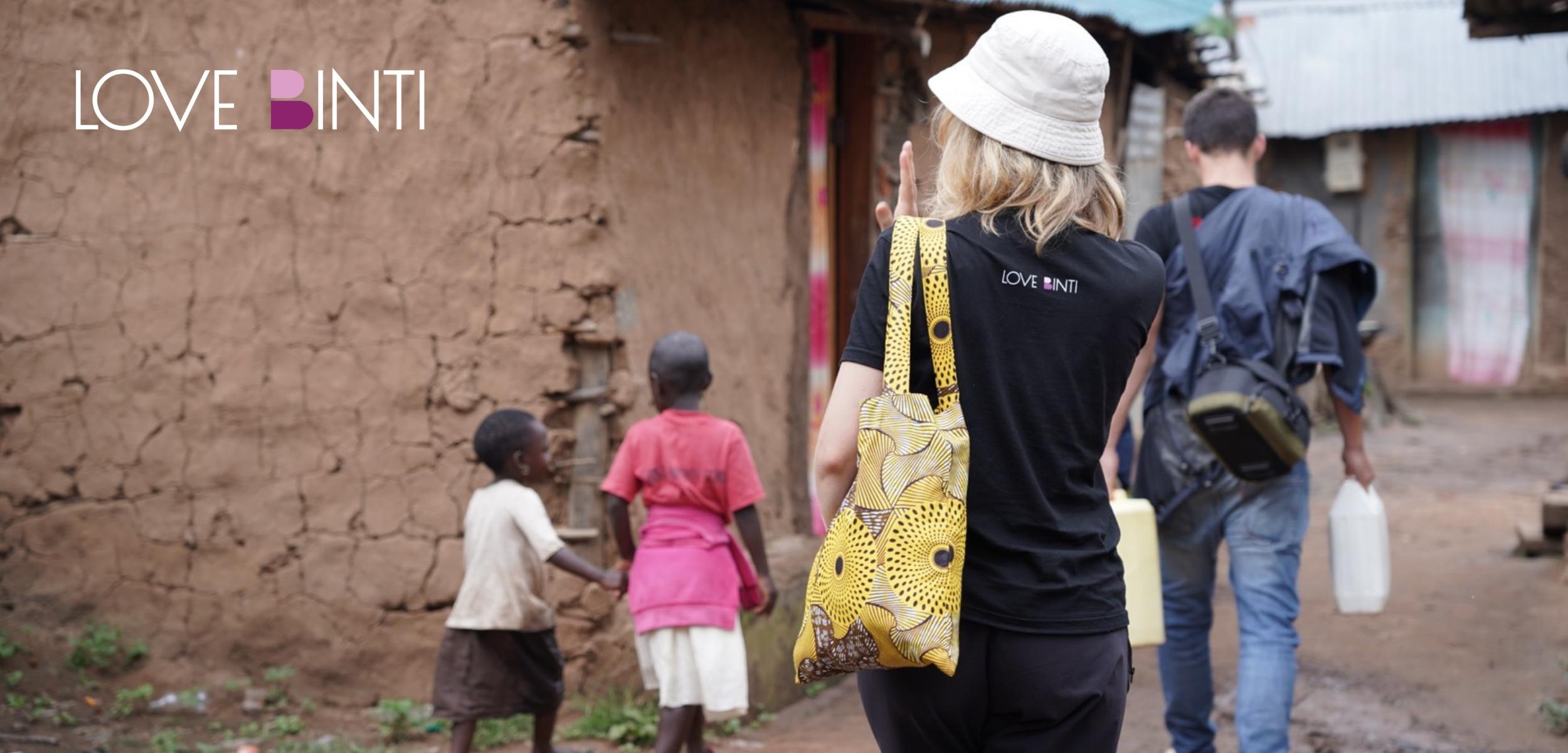 What you will experience on this trip:
- Witness firsthand how development work is carried out
- Understand the problems facing Karamoja
- Take part in women empowerment projects
- Admire the beauty of the Ugandan landscape
- Enjoy local Ugandan food
- Interact with local communities
- Scouting for wildlife on a safari trip
- Make new friends !
Why us?
We know Uganda inside out! We have been operating in Uganda for more than five years with all kinds of development projects. We would like more people to know about the problems women are facing in rural Uganda, and we would like to invite more people to help. We also believe that you have not seen Africa until you walk into the villages, which form the backbone of Africa's culture.

If you are interested in development work, empowering women and understanding what organizations are doing in this part of the world, we invite you to come visit us! There is no better way to understand than to walk into these communities yourself and ask questions. If you are interested in a more lengthy stay, please also contact us for volunteer positions.

Read more about Love Binti International here: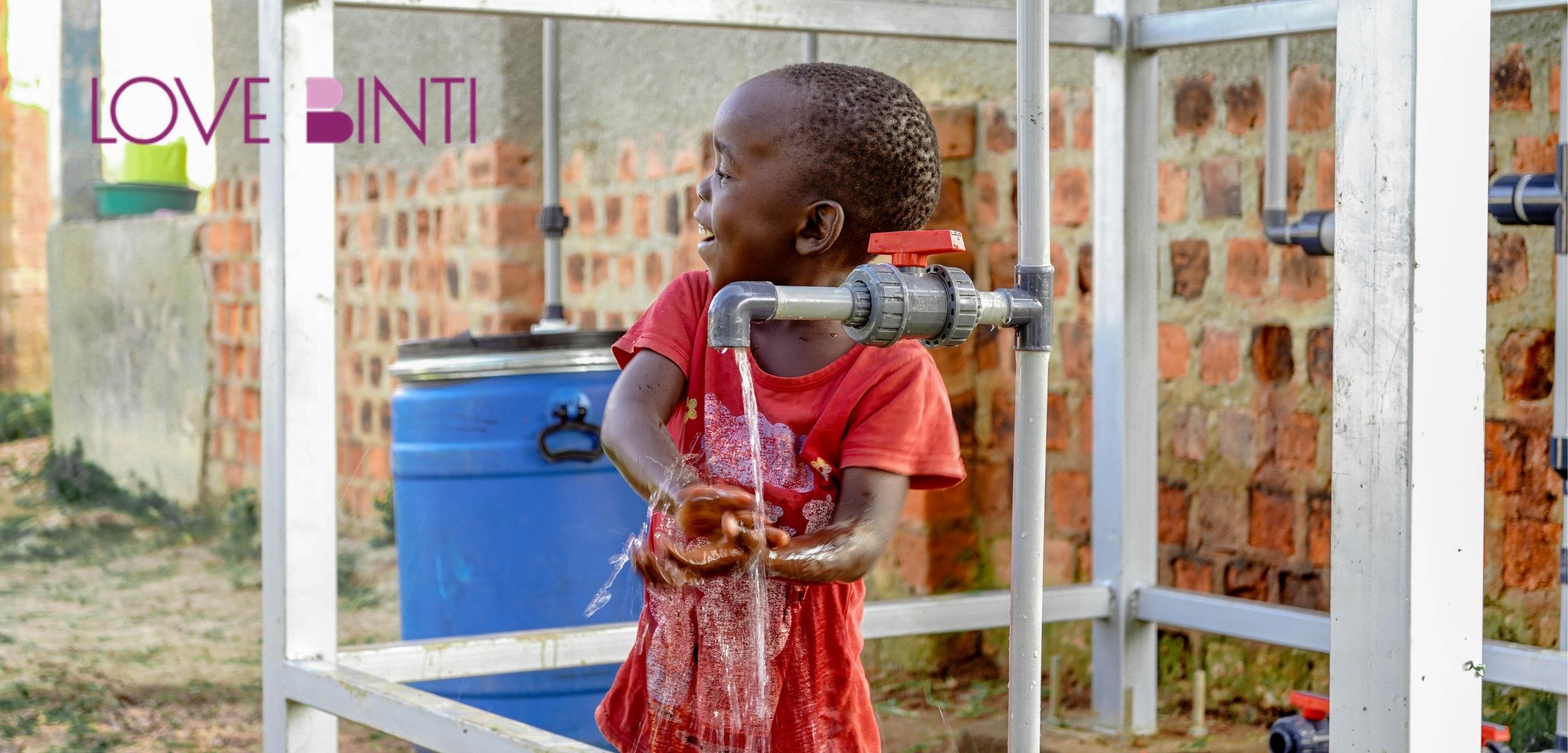 Trip Overview
Date of the trip
We currently have two trips available:

May 29 - Jun 4, 2022
Jul 3 - Jul 10, 2022
Depending on your flight schedule, you might have to plan for staying extra nights in Entebbe or Kampala before and after the trip. Please let us know your flight schedule so that we could plan and advise you on your pick up!
Itinerary

Day 1 Pick up from Entebbe or Kampala - transfer to Love Binti campus in Mukono
Day 2 Visit local communities in Mukono
Day 3 Transfer from Mukono to Moroto, the city of Karamoja
Day 4 Participate in a Pad Sewing Workshop near Moroto
Day 5 Drive to Kidepo National Park. Enjoy an evening game drive
Day 6 Spend the morning in Kidepo National Park.
Day 7 Drive from Moroto back to Kampala or Entebbe
Trip Program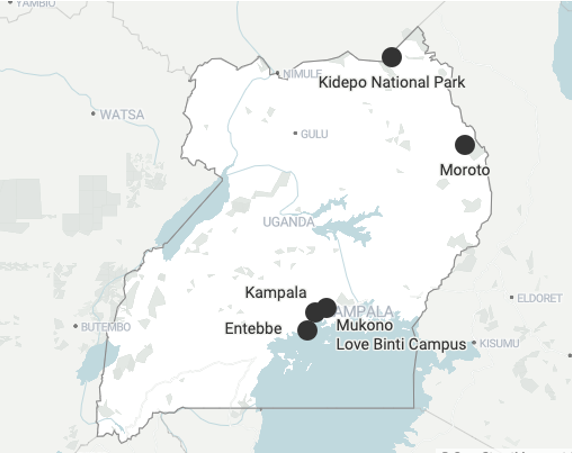 Love Binti Campus in Mukono
In the morning, you would have a tour in our Love Binti campus, where you will see our different agriculture and animal projects, our rainwater collecting facilities, and other project prototypes, which we implement on a larger scale in the communities.
In the afternoon, we will head out and visit one of our Community Empowerment projects, where you will meet some of our close community members. Depending on our project schedule at the time when you visit, you might visit a local primary school, an agricultural project, a water project or other development projects.
Then we will enjoy a dinner cooked at our local kitchen, and relax by the bonfire afterwards. Accommodation will be in self-contained glamping tents (with beds) on campus.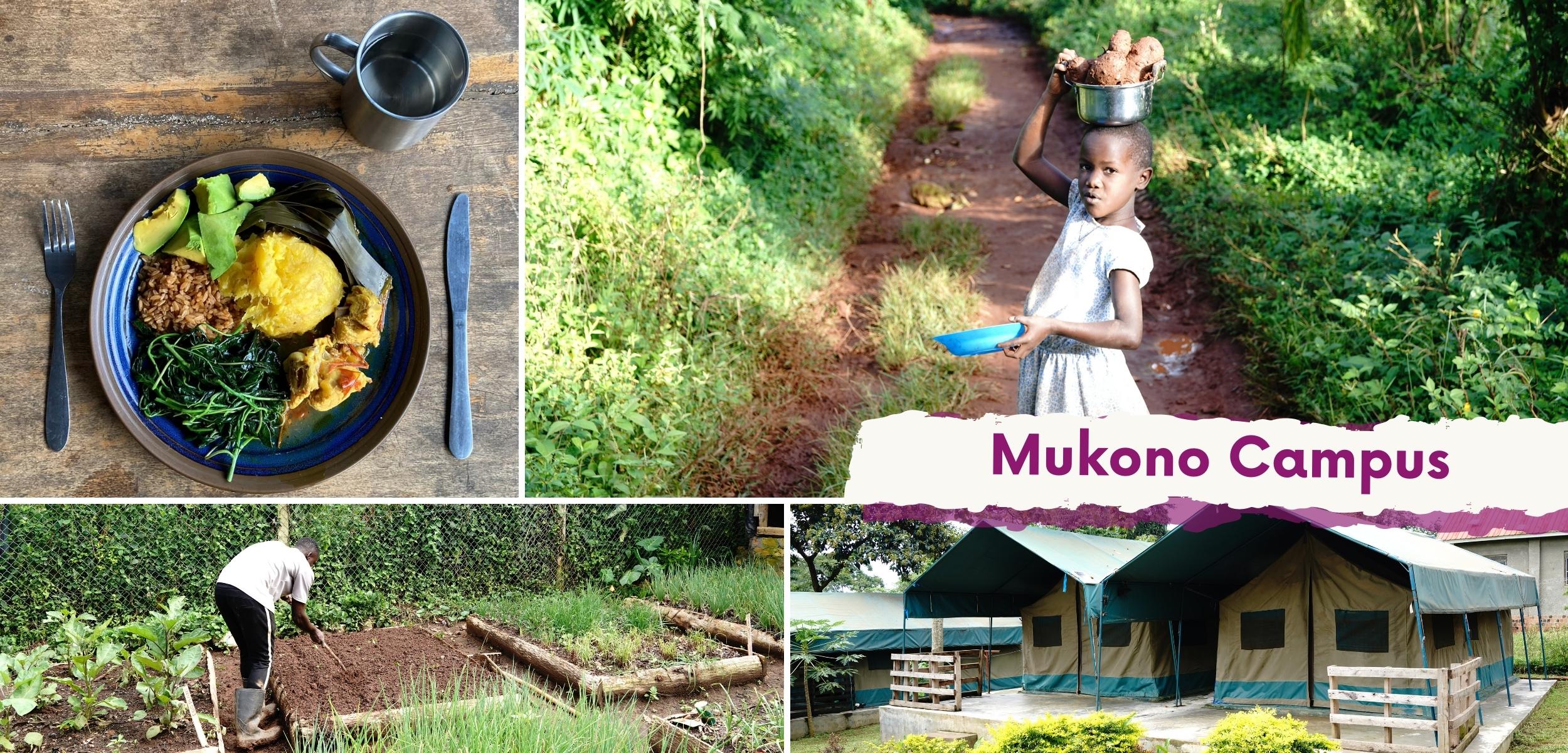 Pad Workshop in Moroto
In Karamoja, one of the most remote areas in Uganda, many women do not have access to sanitary products due to the lack of knowledge and money. A lot of young girls drop out of school when they begin menstruation. In order to support Uganda women, Love Binti International runs workshops to provide education on menstrual health, and cloth pads for those who are in desperate need. In each workshop, we teach basic health education and how to sew reusable sanitary pads using local materials.
In this trip, you will assist our teacher in delivering the class. We will have a short training in advance to teach you how to teach and sew. We hope that more people in the world would learn about the difficulties these women are facing, therefore we invite you to be part of the solution! After that, we will take a walk in the villages, visit the local markets, visit the Karamoja museum, where you will learn about the heritage of Karamoja, and go for a short hike on Mount Moroto for excellent views.

Accommodation will be in a hostel in Moroto.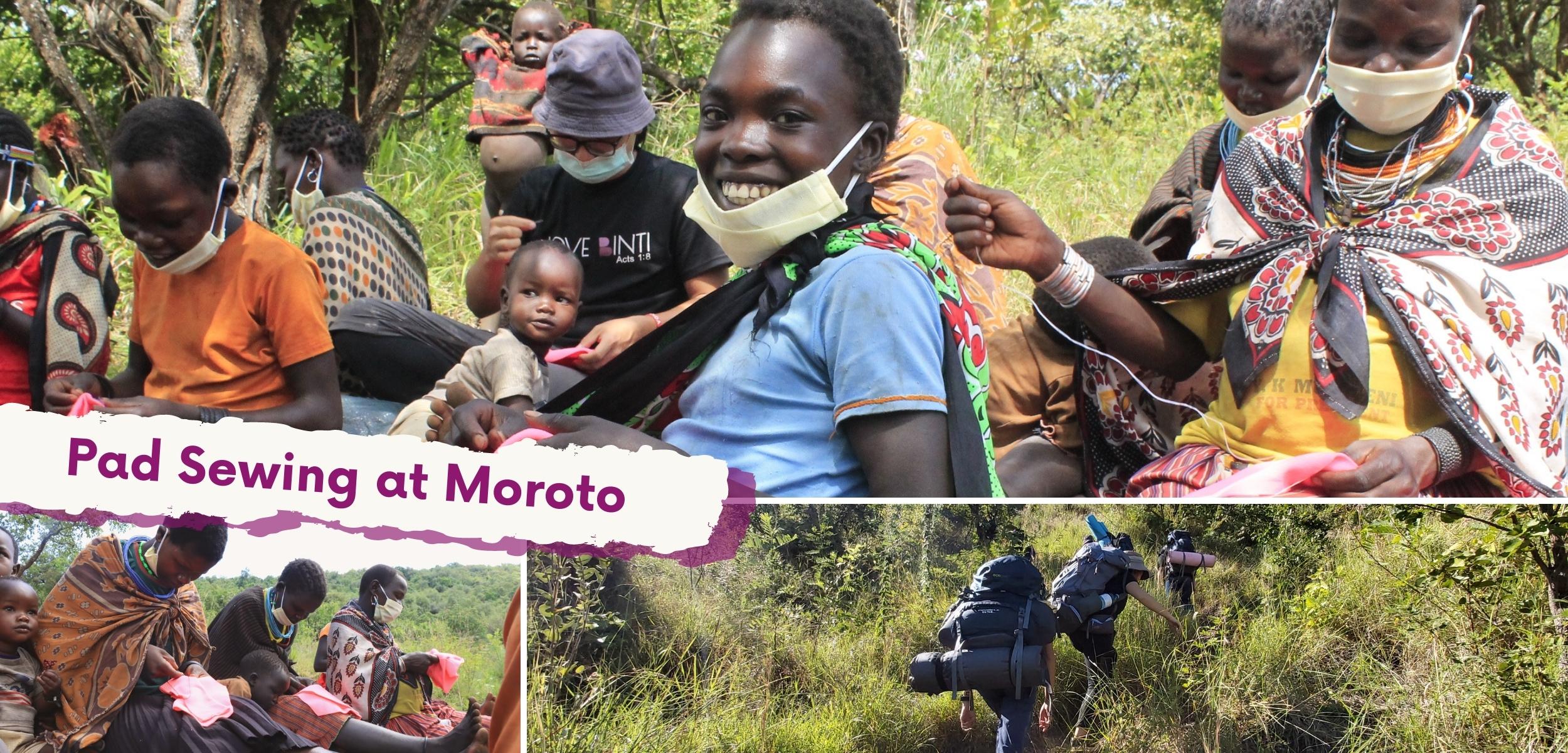 Kidepo National Park
Kidepo is located in the north-east corner of Uganda, close to the borders of South Sudan and Kenya. Its semi-arid savanna landscape extends across 1400km², divided by the Kidepo and Narus rivers. The breathtaking mountain range of Morungole provides an impressive backdrop.
Its remote location makes it Uganda's most isolated national park. The low number of visitors has preserved the unique ambience of this untouched wilderness. The park offers great opportunities for game viewing, including lions, hippos, buffalos, giraffes.
We will reach Kidepo National Park right in time for an evening game drive. And in the morning it is an option to join a game drive and see the sun coming up with all the wildlife of the National Park. Then we will end the visit with a Karamojong village in the afternoon.

Accommodation will be in a visitors lodge in Kidepo. The room might be shared with another fellow participant.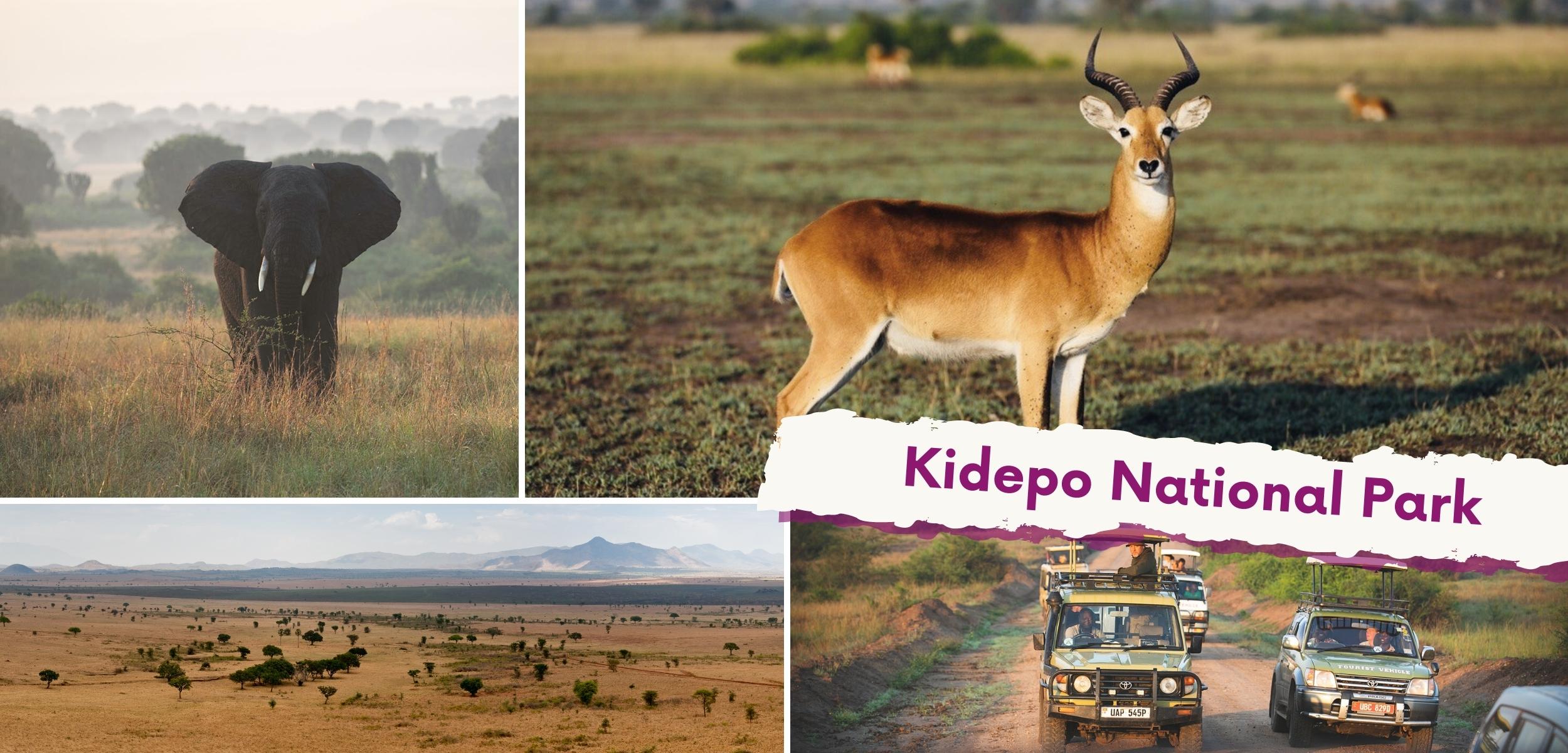 Trip Details

Price
The price for the trip is a trip fee of 2000USD + a donation of 1000USD towards Love Binti development projects.
The price of the tour includes all accommodation, food, transport, guide fees and safari park entrance fees.
Come with more people and get a discount on the trip fee per person.
⬇️⬇️⬇️ See how to book the trip at the bottom of the page ⬇️⬇️⬇️

NOTE: This does not include flight tickets, covid tests required at the airport, travel and medical insurance, and visa fees.
EARLY BIRD DISCOUNT!
Save 10% on the trip fee if you purchase before March 31 2022 !
| | | | |
| --- | --- | --- | --- |
| Person in your group | Trip fee per person (USD) | Fundraising goal per person (USD) | Total cost per participant (USD) |
| 1 | $2000 | $1000 | $3000 |
| 2 | $1800 | $1000 | $2800 |
| 3 | $1600 | $1000 | $2600 |
| 4 | $1400 | $1000 | $2400 |
There is a maximum of 4 people on each trip, because we would like to keep a low staff to visitor ratio. If your group is less than 4, you might be grouped with other people on the trip.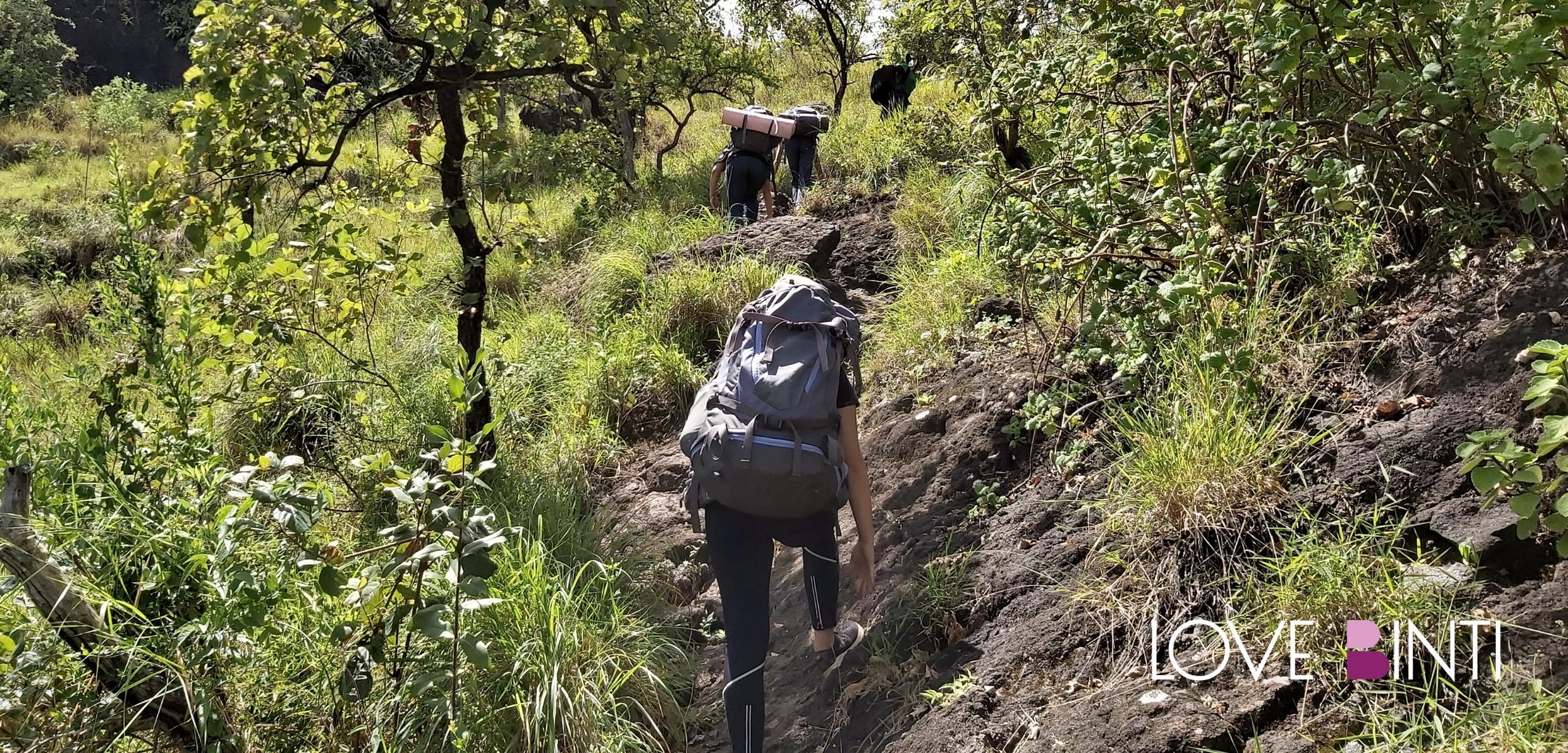 Why are we asking for a donation?
Fundraising is an important part of a NGO, and we ask for your help to fundraise in your own community! We rely on donations to operate our programs. Your donation will enable us to hold more pad workshops in Karamoja, and you would see for yourself the impact of your donation in this trip.

Covid policies
- All Covid SOPs will be strictly carried out. You are required to wear a mask when visiting our campus and local communities.
- If you are tested positive and not allowed to board the plane in your country, you could postpone or cancel the trip. The full tour price could be refunded upon proof of a positive test result.
- If you are tested positive in Uganda, unfortunately we would have to stop the trip to prevent spreading the disease. Our local staff would help you find a place where you could stay during recovery. However, we will not be responsible for fees incurred during recovery. It is only possible to resume the trip if your test result returns negative.
Refund policy
- If you cancel the trip two weeks before departure, 100% of the trip fee could be refunded.
- If you cancel the trip less than two weeks before departure, 75% of the trip fee could be refunded.
Preparation for the trip
- Yellow fever certificate is required for entering Uganda
- A travel visa is required.
You can apply for it online here
- A negative covid test result is required for entering and exiting Uganda.
See the latest COVID policies here
What will you need to bring with you?
- Sun hat and sunglasses

- Sunscreen

- Good walking or working shoes

- Casual and comfortable clothing - natural fabrics recommended for coolness

- Flashlight/headlamp

- Ample supply of any needed medications


- Mask and sanitizer

- Sandals

- Personal toiletries

- Notebook for writing

- Phone

-

Camera
How to book the trip?
Follow these steps:
1. Click here to go to out fundraiser site
2. Press the orange button on the top of the page:

Claim this perk

3. Adjust the number of visitors you want to book for at "Quantity" field
4. It is optional to add an extra perk/donation.
5. Press Continue

at the bottom of the page

6.

Fill out your information, and please add a message under Your Message

which dates you are interested in.

7.

Press Continue if you are happy (if you do not agree with the price, you can "change the tip amount" underneath the price.
Thereafter you can continue to payment.

For further questions contact here: [email protected]